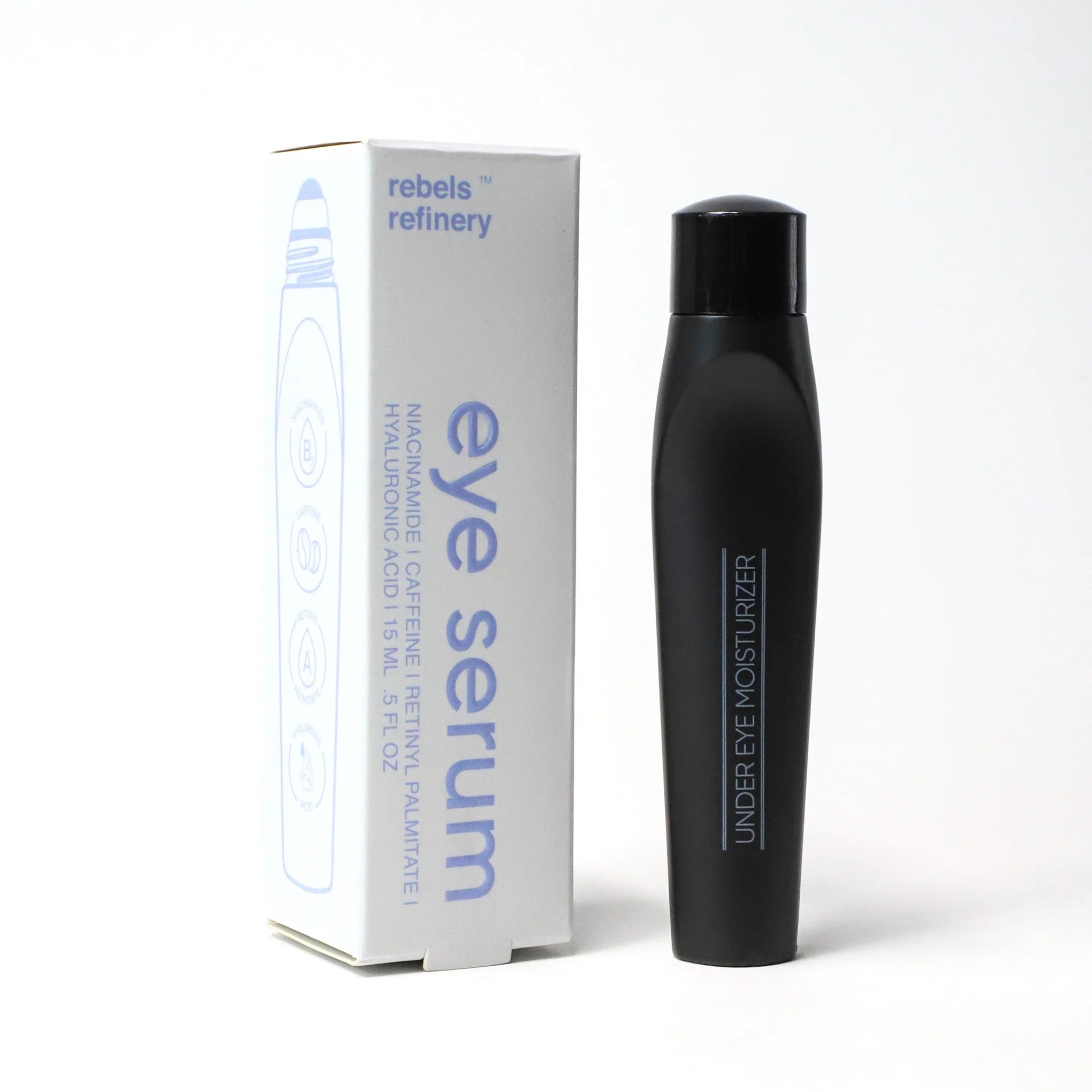 Rehab Roller Under Eye Moisturizer
Meet the NEW eye serum FORMULA with the highest quality ingredients for you. Reduce your dark circles, under-eye bags and wrinkles.

Brighten, soften, and moisturize; this eye serum does it all. Packed with Vitamins A and E, along with Niacinamide, Caffeine, and Hyaluronic Acid, we think it's safe to say your dark circles and fine lines have finally met their match.  With our unique stainless steel rollerball applicator, you'll get an extra cooling effect so you can appear bright-eyed and bushy-tailed even when your sleep schedule suggests otherwise.  
15ml
INGREDIENTS
Aloe barbadensis (Aloe Vera) Leaf Juice, EcoCert Propanediol (Vegetable), Hydrolyzed Oryza sativa [Rice Bran] Protein, Oxido Reductases, Glyceryl Stearate SE, Aveena sativa (Oat) Kernel Flour, Caprylic Capric Triglycerides, Ribes nigrum (Black Currant) Seed Oil, Borago officinalis (Borage) Oil, Dimethylaminoethanol Natural (Bitartrate) DMAE, ORGArgania spinosa (Argan) Oil, EcoCert Gluconolactone, Caffeine, Xanthomonas campestris (Xanthan) Gum, EcoCert Sodium Benzoate, Deionized Aqua (Water) and Sweet Almond Seed Extract (PhytoLift), EcoCert Trimethylglycine (Beet) Sugar, Rubus Idaeus (Red Raspberry) Seed Oil, Palmitoyl Tripeptide-5, Squalane (Olive), Phospholipid (Lecithin) (and) Retinol (Vitamin A) Encapsulation (and) Tocopherol Acetate (Vitamin E) Encapsulation, Glycine Soja (Soy) Bean Potein.