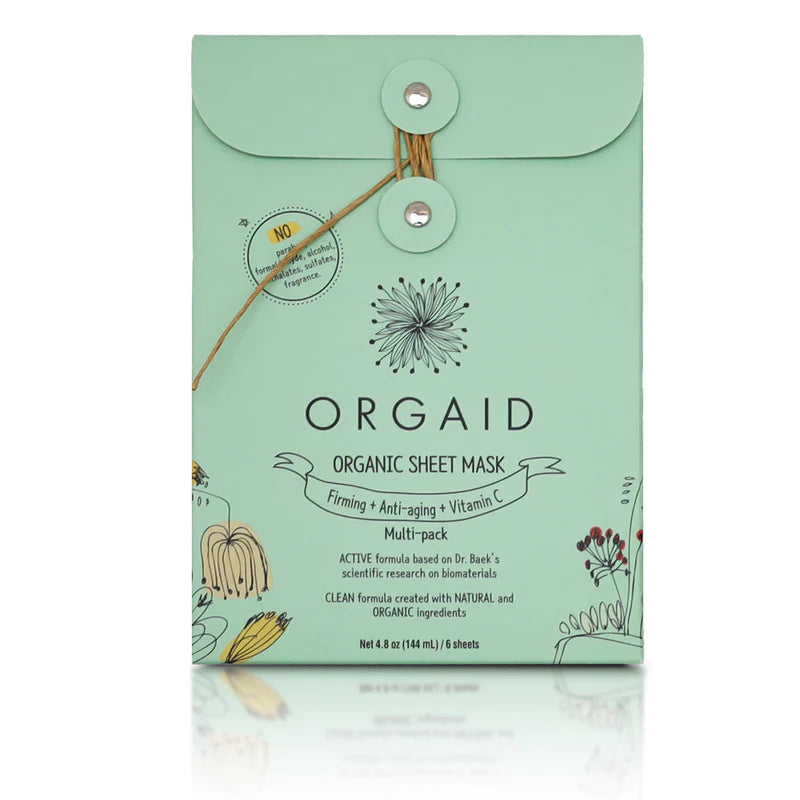 Organic Sheet Mask Multi-Pack | Box of 6
Save 20% by buying the multi-pack.
ORGAID has developed organic sheet masks with a scientific formula composed of safe, high-end performance skincare ingredients with no chemical preservatives.
ORGAID sheet masks use ECODERMA as the sheet which adheres to the face comfortably while allowing the serum to better penetrate the deep layers of the skin.
How to Use: Cleanse face, unfold and apply sheet mask. Relax for 20-30 minutes while serum penetrates into skin. 
Multi-Pack Includes:
2 OF VITAMIN C + REVITALIZING SHEET MASK
+ Vitamin C Reduces the appearance of brown spots and sun damage
+ Vitamin C Provides potent antioxidant protection to keep skin firm and youthful
+ Orange Peel and Pomegranate boost healthy collagen synthesis
+ Hyaluronic Acid hydrates and plumps skin
+ Organic Botanicals soothe and smooth complexion
2 OF NOURISHING GREEK YOGURT SHEET MASK
+ Organic Greek Yogurt supplies essential nutrition to skin
+ Organic Botanicals soothe and smooth complexion
+ Pro-Vitamin B5 and Allantoin tighten skin + Beta Glucan and Vegetable Proteins condition skin
+ Hyaluronic Acid hydrates and plumps skin
2 x each ANTI-AGING + MOISTURIZING SHEET MASK, VITAMIN C + REVITALIZING SHEET MASK and NOURISHING GREEK YOGURT MASK
Save $10 when you buy the multi-pack (Valued at $60)
+ Vitamin B3 reduces the signs of skin aging like hyper-pigmentation and fine lines
+ Aloe Vera  helps moisturize and calm skin 
+ Organic Botanicals soothe and smooth complexion
+ Witch hazel reduces swelling and redness
+ Hyaluronic Acid hydrates and plumps skin
INGREDIENTS

Vitamin C + Revitalizing Masks:
Water, Organic Lemon distillate*, Kosher vegetable Glycerin, Lactobacillus ferment, Sodium ascorbyl phosphate (Vitamic C), Hyaluronic acid, Maltodextrin, Arginine, Carbomer, Organic Orange peel extract*, Organic Pomegranate extract*, Organic Rosehip extract*, Organic Lavender extract*, Organic Thyme extract*         
Nourishing Greek Yogurt:
Water, Organic Aloe vera leaf juice*, Kosher vegetable Glycerin, Lactobacillus ferment, Organic Greek yogurt powder*, Organic Lavender distillate*, Vanilla fruit distillate, Hyaluronic acid, Maltodextrin, Beta glucan, Panthenol (Pro-vitamin B5), Hydrolyzed vegetable protein, Allantoin, Arginine, Carbomer, Organic Chamomile extract*, Organic Thyme extract*, Organic Willow bark extract*, Organic Rosehip extract*, Organic Green tea extract*       
Anti-Aging + Moisturizing:
Water, Organic Aloe vera juice*, Witch hazel distillate, Niacinamide (Vitamin B3), Kosher vegetable glycerin, Lactobacillus ferment, Hyaluronic acid, Maltodextrin, Arginine, Carbomer, Organic Willow bark extract*, Organic Lavender extract*, Organic Rosemary extract*, Organic Horsetail extract*, Organic Green tea extract*                                                                                            
  *USDA Certified