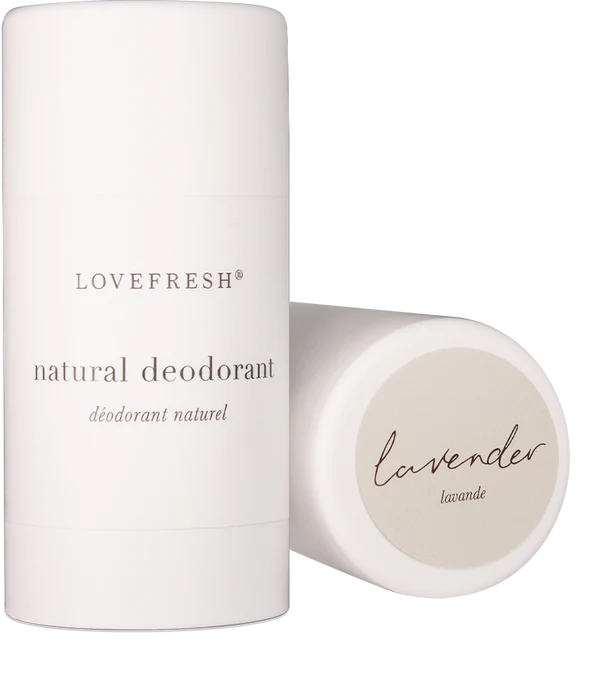 100% natural cream deodorant that actually works! 
This all-natural deodorant will keep you smelling fresh all day long, we promise! By using this wonderful deodorant you will feel comfortable that you are not putting any harsh chemicals under a very *vulnerable* part of your body. It really, really works.
3.6 oz
Transitioning to a Natural Deodorant 
If you've never tried a natural deodorant before (we're glad to be your first!) but you may also find that your body needs some time to adjust. If you've previously suffered from sensitive skin, we suggest taking the time to test the product in a small patch on your underarm for a couple days. It's also best to make sure you never apply our product directly after shaving. 
All of our LOVEFRESH deodorants are handmade in Toronto, therefore the consistency of the product may vary between batches
If you notice your deodorant is too firm, you may need to put it in a warm place to soften up.  This simply means there was more wax added to keep the deodorant firm in the warmer weather. The more you use the product, the smoother and creamier it will become! 
INGREDIENTS
Cocos Nucifera (Coconut) Oil, Theobroma Cacao (Cocoa) Seed Butter, Maranta Arundincea Root (Arrowroot Powder), Natural Beeswax, Sodium Bicarbonate (Non-Aluminum Baking Soda),Kaolin Clay, Fractionated Coconut Oil, Zinc Oxide, Lavender and Tea Tree Essential Oil Blend. That's it.