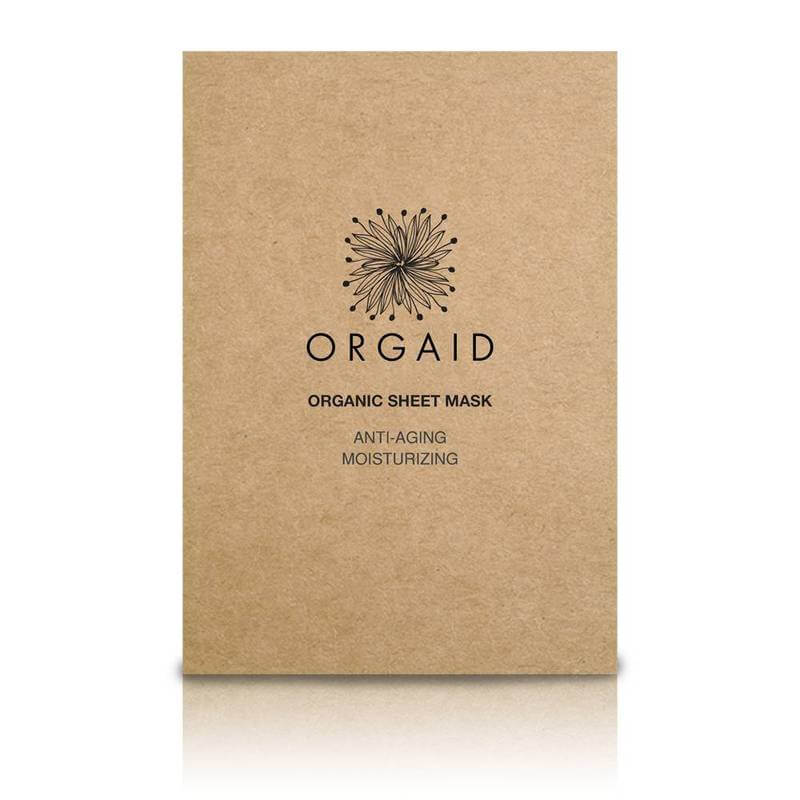 Anti-Aging + Moisturizing Sheet Mask
No spa? No problem. On clean skin, apply our organic sheet masks 1-2x per week (20-30 mins) to give your skin an at-home spa treatment.

Prior to using, pop your sheet mask in the fridge for a cooling effect. Don't forget to apply all that extra serum in the pouch to your neck and chest!
Orgaid sheet masks use ECODERMA as the sheet which adheres to the face comfortably while allowing the serum to better penetrate the deep layers of the skin.
Niacinamide, aka Vitamin B3 is a one stop shop for your skin concerns. Its known to reduce the signs of aging by giving back moisture into your skin, minimize pores, and treat hyperpigmentation. In addition, niacinamide helps restore your skin barrier to ensure your skin continues to look and feel hydrated as you begin to age.
Aloe Vera is a natural moisturizer that replenishes moisture in the skin without giving it a greasy, oily feel. Aloe Vera gel contains two compounds that have wonderful anti-inflammatory and healing properties. Auxin and Gibberelins are the two hormones that stimulate skin growth and reduce skin inflammations. This leads to minimal scarring and hence allows the treatment and prevention of acne.
+
Organic Botanicals soothe and smooth complexion+ Witch hazel  
reduces swelling and redness
+
Hyaluronic Acid
hydrates and plumps skin
INGREDIENTS
Water, Organic Aloe Vera Leaf Juice, Witch Hazel Distillate, Niacinamide (Vitamin B3), Kosher Vegetable Glycerin, Lactobacillus Ferment, Hyaluronic Acid, Maltodextrin, Arginine, Xanthan Gum, Honeysuckle Flower Extract, Organic Willow Bark Extract, Organic Lavender Extract, Organic Rosemary Extract, Organic Horsetail Extract, Organic Green Tea Extract