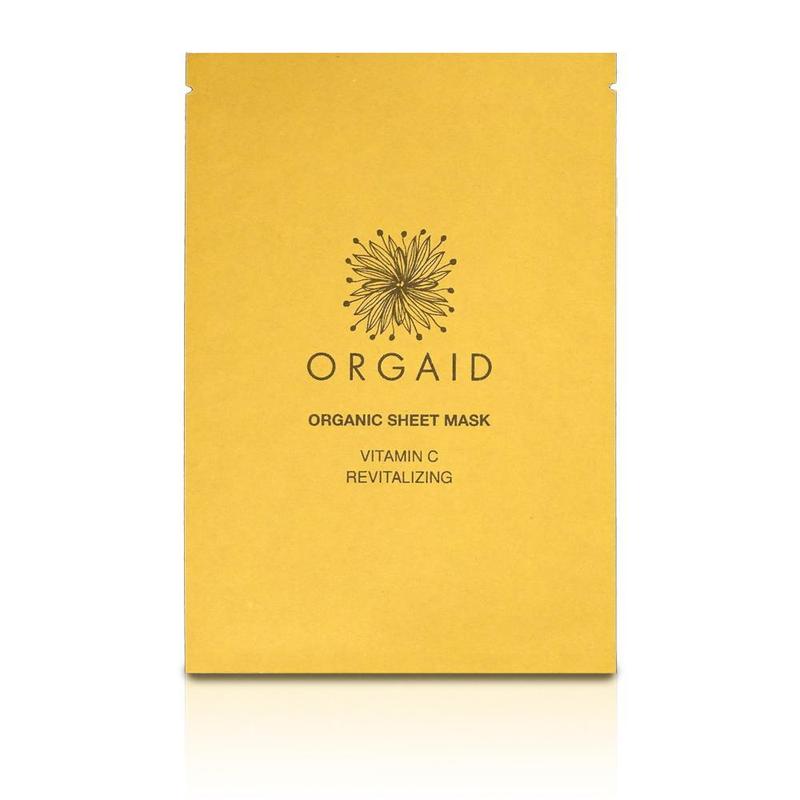 Vitamin C + Revitalizing Sheet Mask
No spa? No problem. On clean skin, apply our organic sheet masks 1-2x per week (20-30 mins) to give your skin an at-home spa treatment.
Prior to using, pop your sheet mask in the fridge for a cooling effect. Don't forget to apply all that extra serum in the pouch to your neck and chest!
Orgaid sheet masks use ECODERMA as the sheet which adheres to the face comfortably while allowing the serum to better penetrate the deep layers of the skin. 
Vitamin C is essential to skin health. It is effective in protecting the skin against free radicals and UV light. In addition to its antioxidant functions, vitamin-c regulates structural collagen protein which is a main component of the skin. The use of vitamin-c in topical applications may reduce wrinkling, protein fiber damage, dry skin, brighten the skin, and increase collagen production.
Lemon contains a high content of vitamin-c which is a big factor in its brightening properties. Thanks to citric acid (an alpha hydroxy acid), it aids in fading dark spots and blemishes, creating a brighter and even complexion. Acids can make your skin sensitive to UV light, so always remember to apply sunscreen after use.
+ Orange Peel and Pomegranate boost healthy collagen synthesis
+
Hyaluronic Acid
hydrates and plumps skin
+ Organic Botanicals soothe and smooth complexion
INGREDIENTS
Water, Organic Lemon distillate*, Kosher vegetable Glycerin, Lactobacillus ferment, Sodium ascorbyl phosphate (Vitamic C), Hyaluronic acid, Maltodextrin, Arginine, Carbomer, Organic Orange peel extract*, Organic Pomegranate extract*, Organic Rosehip extract*, Organic Lavender extract*, Organic Thyme extract*                                                                                                                                      *USDA Certified