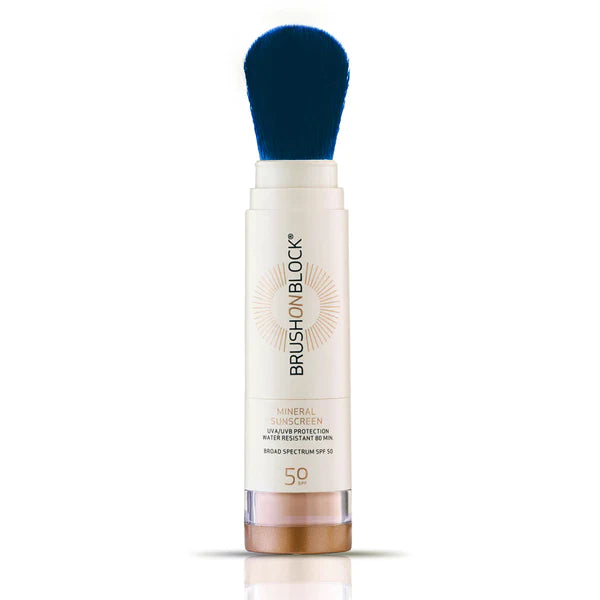 Brush On Block | Mineral Powder Sunscreen SPF 50
Introducing Brush On Block's Mineral Powder Sunscreen SPF 50 – with elevated protection for those times when you need it.
This new formula helps soothe irritated skin, blurs imperfections and has emollient ingredients that help keep skin moisturized. Like all  Brush On Block products, it contains only safe, mineral sunscreen actives.
Easy to apply and reapply
Easy to carry and pack
Provides shine-free sun protection
Mineral Powder SPF 50 can be worn alone or over make-up, and is water resistant for 80 minutes. 
If you already use SPF 30 daily, when might you need extra protection? We recommend our new SPF 50 for those with very fair skin, for extended exposure to UV rays (remember to reapply), for higher elevations, anytime you are around snow or water, and for anyone at high risk of skin cancer.
HOW TO USE
Brush On Block® is housed in a self-dispensing brush. The powder flows through the brush and out the head of the brush. When you receive the brush it will be in the "close" position. Remove the top cap and slide the plastic sleeve all the way down to uncover the brush head. Turn the bottom cartridge slightly (about 1/2") to the left until you feel a click (don't keep turning it or you will unscrew the cartridge completely). Now the brush is in the "open" position and the powder should flow through the brush to the brush head. Hold the brush in your hand and flick your wrist (like you would do with a glass thermometer) until you see the mineral powder sunscreen in the brush head. Apply liberally to face, neck, chest and hands, or about 15 seconds on each half of the face, each hand, the neck, etc. Turn the bottom of the container to the right back to the "close" position and replace cover when not in use. 
INGREDIENTS
Active Ingredients:
Titanium Dioxide 6%
Zinc Oxide 21%
Inactive Ingredients:
Bisabolol, Boron Nitride, Chamomile Flower Extract, Ethyl Ferulate, Hydroxyacetophenone,bIron Oxides, Lauroyl Lysine, Mica, Phenyl Trimethicone, Rice Bran Extract, Safflower Seed Oil, Silica, Sodium Dehydroacetate, Triethoxycaprylylsilane